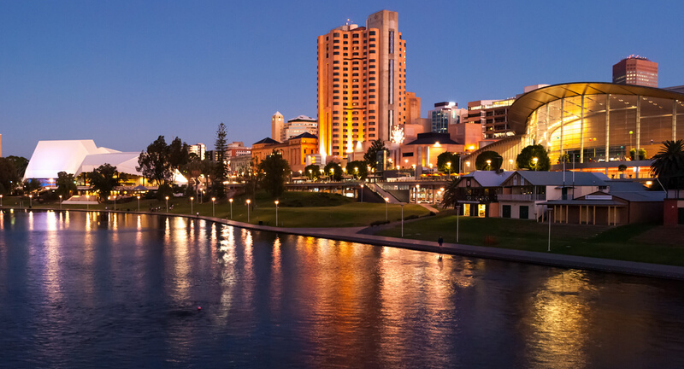 Have you ever fancied studying in a posh cosmopolitan city in australia , with a rich cultural life and natural biodiversity? 
Yes? Then, Adelaide is just the place for you! 
Studying in Adelaide will not only open avenues for you professionally but will also allow you to enjoy a leisurely lifestyle and have a fun campus life. 
If you are an international student looking to study at Adelaide, here are a few pointers which might come handy for you.
 
The City of Adelaide
Adelaide is a multicultural city hosting various events and festivals with vibrant music and dance all through the year.
It has various renowned museums and extensive galleries showcasing several indigenous arts and is a must-visit place if you are an art fanatic. The city has several public libraries and offers free internet service.
International and domestic flights arrive at Adelaide Airport, which is a 15-minute drive from the city center or 25 minutes via public bus. There is also a door-to-door shuttle service from the airport to city hotels so getting around the city and exploring the places is not going to be a problem for you. 
 
Safety first!
As an international student in Adelaide, you can be assured about the safety measures taken here. With the University located in the heart of the city, it is pretty convenient to get around. The University of Adelaide offers an International Student Support Service (ISS) to help newly arrived students to not only settle down but also give guidance throughout their time at the campus. 
 
Looking for accommodation?
Worried about the cost of accommodation? Don't be.
 Adelaide is a budget-friendly city with plenty of places for international students to stay in. The city has various websites that cater to international students looking for accommodation. 
There are several pocket-friendly lodges and apartments to choose from apart from the dorm rooms at the university. The cost of accommodation for international students can range from A$190-A$350 per week inclusive of all utility bills (electricity, water, gas, Wi-Fi). 
 
What's the weather like?
Adelaide enjoys a Mediterranean climate with warm pleasant weather in the summers and mildly cold weather in the winters. 
The bright sunny weather also means that you can spend your time outdoors and get to see the beautiful flora and fauna. If you step outdoors you can feel the cool, refreshing and breezy winds from the beach. 
 
FOOD! FOOD! FOOD!
Adelaide has a thriving bar and restaurant scene, serving mouth-watering food; ranging from local food joints worth drooling over, to the finest dining experiences. 
The fresh local produce procured directly from the farmers is brought to your tables by some of the best restaurants in the city like Orana and  Fino Vino which are also well known for supporting the local market. 
East Taste Cafe

: Satisfy your taste bud with plenty of Chinese fusion dishes at this restaurant that has been blossoming for more than 10 years! They open until 1am/2am hence you got your late night cravings covered!

Mandoo

: In the mood of getting korean food after binging on k-drama? Visit Mandoo and try their dumplings (

mandoo means dumplings in korean btw)

! It will feel like a handsome oppa is feeding you the best Korean food in the world! 
 All work and no play? Not here in Adelaide!
The universities in Adelaide host numerous fun events and has several student club organizations that will help you grow exponentially. But the fun doesn't stop at your dorm rooms! 
There is a fair share of events and festivals held in the city. The Adelaide Fringe, held in February is the second-largest Fringe Festival, and highest ticket selling multi-arts festival in Australia. Oh! And don't miss the exciting Christmas pageant party attended by people of all ages!
Begin an exciting new adventure by exploring the city of Adelaide. The scenic beauty, the food, and the people will definitely make you fall in love with this wonderful city. Don't just take our word for it. Go there and be your own judge! 
 
At AECC Global Philippines, we have tied up with top Australian universities , so that you can upskill and start afresh in Australia.