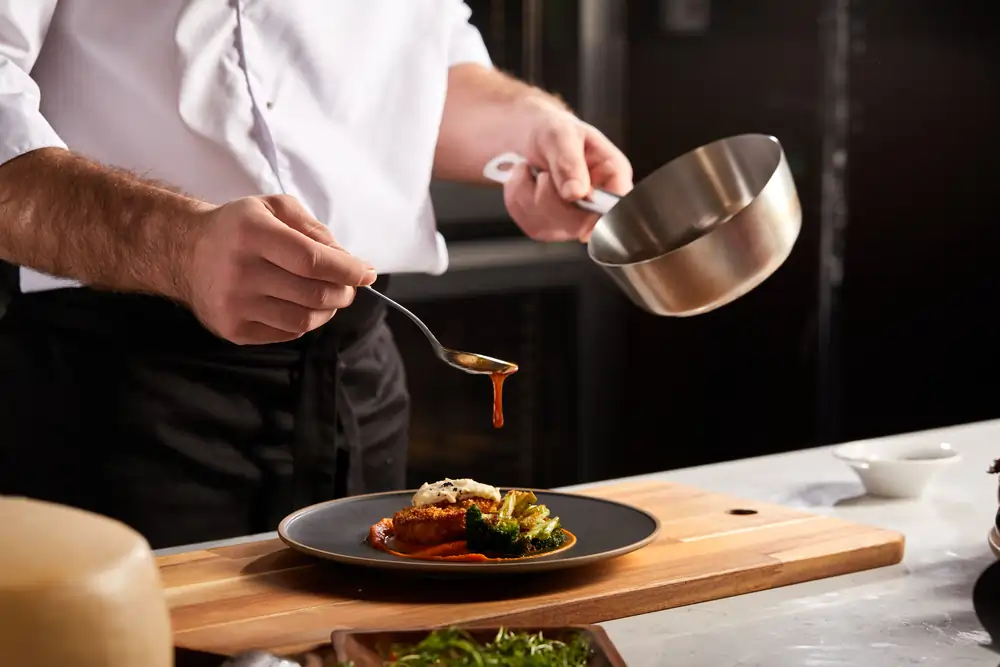 Culinary Arts Course Overview
Culinary Arts deals with a broader aspect of cookery, involving the art of preparing, cooking, and presenting food. It is a diverse and exciting field that encompasses everything from classic haute cuisine to international street food. Whether you're a professional chef, a home cook, or just a food enthusiast, Culinary Arts could be just the course for you!

Culinary Arts are not just limited to the kitchen – it includes the art of pairing food and drinks, as well as the business aspect of running a restaurant. With the rise of food-related media, such as cooking shows and food blogs, chefs have also become popular personalities. Let's explore the world of Culinary Arts further to see if it is the right fit for you. Bon appétit!
Why Study a Culinary Arts Course Abroad?
Studying Culinary Arts abroad can provide a unique and valuable experience for a number of reasons.
You get to experience new and diverse cuisines that you may not have been exposed to. This can broaden your understanding of ingredients, techniques, and presentation styles from around the world, inspiring new and creative approaches to your own cooking.

You can access top-tier culinary programs and facilities that may not be available in Malaysia. This can include exposure to renowned chefs and instructors, state-of-the-art kitchens and equipment, and opportunities to work in prestigious restaurants and hotels.

Studying any course abroad is an excellent opportunity to gain new perspectives, skills, and knowledge. It can also provide a unique and valuable experience that will benefit you both personally and professionally.
Program Structure for Culinary Courses 
Bachelor's Course Structure
In the first year of

culinary courses

, you will learn basic culinary techniques, kitchen safety and sanitation, kitchen maths, and menu planning. You may also begin to learn about different cuisines and ingredients.

In the second year, you will take more advanced classes in culinary techniques, such as baking and butchering, as well as food cost control, kitchen management, and culinary arts history.

In the third year, the modules will be focused more on specialised classes such as pastry arts, wine, and beverage service, and international cuisine. 

In the fourth year, you may take classes in culinary entrepreneurship, catering, and event planning – as well as participate in a capstone project or thesis. All this, along with internships or externships, and you are all set in terms of gaining real-world experience.
Diploma's Course Structure
In the first semester, the emphasis will be on getting to grips with essential culinary principles. This involves knowledge of food science, baking, and nutrition. 

Subsequently, in semester two, attention turns to honing skills with hands-on learning opportunities as well as internships and specialized courses.
This is a general structure and may vary depending on the university offering the program.

Subjects that will be covered:
Principles of Gastronomy

Food and Beverage Operations

Pastry & Confectionery

Food and Beverage Operations Management

Leadership and Professional Development
Requirements to Study Culinary Courses Abroad
There are a few prerequisites that you need to meet to apply for culinary courses abroad – check out the table below.
S.no
Courses
Duration
Requirement
1.
Diploma's
9 months to 1 year

Successful completion of an SPM / IGCSE.

Required minimum score in English test.

2.

Bachelor's

3 to 4 years

Successful completion of the pre-university course with a good score.

Required minimum score in English test.
In terms of English proficiency, you must have taken either the IELTS, TOEFL, or PTE exam, depending on your university's requirements.
Career Prospects and Scope of Culinary Arts Abroad
Whether you are just starting out or you are a seasoned pro, there are many different career paths in the world of culinary arts. From working in a busy restaurant kitchen to an elite fine dining spot, the opportunities are endless. 
The Culinary Arts field is not limited to just working in a kitchen. You could also work as a caterer, planning and executing events such as weddings and parties. Or, if you have a way with words, you could become a food critic, writing reviews for newspapers, magazines, and websites.
Entrepreneurship is another great opportunity for culinary graduates. You could open your own restaurant or food truck or start your own food-related business. And if you love sharing your knowledge and passion with others, you could become a culinary instructor or teach Culinary Arts in schools or other universities.
The Culinary Arts field is constantly evolving and offers a wide range of exciting and diverse career prospects. With the right training and experience, the possibilities are truly endless.

Here's a list of various career paths within Culinary Arts:
Chef proprietor

Food stylist

Head chef

Restaurant manager

Hospitality manager

Kitchen manager

Food science researcher

Development chef

Food critic

Food production manager

Nutritionist

Caterer
Best Countries to Study Culinary Arts Degree
When it comes to studying Culinary Arts, there are a few study destinations that stand out as the crème de la crème. If you're looking for top-ranking universities to study culinary arts abroad, look no further than these study destinations:
These study destinations are known for their unique culinary culture and renowned universities with excellent culinary arts programs. From mastering classic French techniques to exploring the flavours of the UK, these destinations feature top culinary universities and programs that offer the best education in terms of faculty and modules.
Best Universities to Study Culinary Course
There are many great universities to study Culinary abroad and work in this field after graduation. We have selectively chosen a few such institutions, and it is worth noting that a Culinary degree obtained from any of these universities is widely acknowledged on a global scale.
University of Surrey
Edge Hill University
Oxford Brookes University
Auckland University of Technology
Toi Ohomai Institute of Technology
William Angliss Institute
Le Cordon Bleu Australia
Victoria University
Academia Institute Melbourne
Head over to the nearest AECC office or fill out the inquiry form to obtain in-depth information about these study destinations, the best universities to attend, and how to get started on pursuing your desired degree in culinary arts.
Frequently Asked Questions
What is the difference between cooking and Culinary Arts?
Cooking refers to the practical skills and techniques used to prepare food. It involves the actual hands-on process of preparing ingredients, following recipes, and using various cooking methods to create a finished dish.

Culinary Arts, on the other hand, is a broader term that encompasses all aspects of the food industry, including cooking, as well as other areas such as food science, nutrition, kitchen management, and food service.
What is the highest-paid culinary job?
Is Culinary Arts a promising career?
What can I study for my bachelor's in culinary arts?
We See Your Potential and Help You to Study Culinary Arts Abroad That Adds Significant Value to Your Future.
Our international education counsellors proactively guide and support the international students in choosing the top-ranking universities and the best courses to achieve their career goal. We make sure our students are provided with personalised support when applying to study culinary arts abroad.
To get in touch with our expert team, simply leave your details below and we'll call you for a FREE consultation.

LAM'AAN LATHEEF , MALDIVES,
THIRU JASMI, KLANG VALLEY,
PEE HUI HAN, KLANG VALLEY,
YEE HAOW KHOO, KLANG VALLEY,