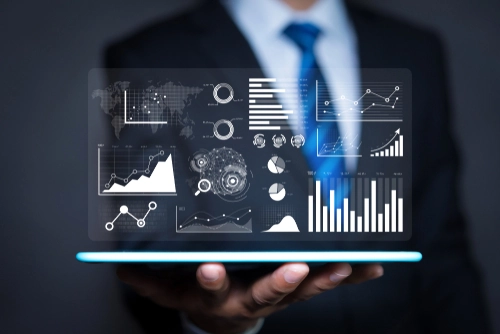 Business Analytics Overview
In today's world, data is generated and consumed at an unprecedented rate. Business Analytics allows businesses to collect and analyse this data to make important decisions, identify trends, and drive change. The role of Business Analytics in business is therefore crucial in today's fast-paced and data-driven world.
Data analytics is a key tool that businesses use to improve their decision-making processes, products, and services. By analysing data and trends, business analysts can help organisations increase their efficiency and effectiveness, while also adding value.
Studying a
Business Analytics degree abroad
can provide you with the theoretical and practical foundation needed to excel in this field. You will learn about global business practices, management principles, data analytics techniques, and data science applications, all of which can be used to contribute positively to any organisation.
Mathematics, programming, statistics, and business management are some of the subjects covered in the Business Analytics degree.

Throughout your studies, you will learn how to gather and analyse data in a safe and ethical manner in order to identify trends that organisations can use to solve issues, target consumers, or anticipate the future.
By expanding your horizons and taking a Business Analytics course abroad, you'll have a much wider range of jobs to choose from. You can take advantage of the best courses available globally, and see how other countries utilise data.
Why Study Business Analytics Abroad?
Business Analytics is a growing field with opportunities available in many countries. If you are planning to enter this field, you can study at the undergraduate or postgraduate level, depending on your previous education and experience. Business Analytics courses are available in top study destinations. A bachelor's degree in Business Analytics can be earned in three to four years, but those who already have a related bachelor's degree can study a master's degree in Business Analytics in one to two years. The skills learned through these programs can lead to exciting and rewarding careers in Business Analytics.
A bachelor's in Business Analytics can help equip you with the business knowledge and analytical skills essential for a successful managerial or consultancy career in the business/technology industry. The degree offers a range of options to develop the key skills you need to succeed in your chosen field. Whether you're looking to launch your own business, climb the corporate ladder, or become a sought-after consultant, a Business Analytics degree can give you the edge you need to reach your professional goals.
If you're looking to take your business skills to the next level, then a master's degree in Business Analytics is just what you need. With this type of degree, you'll gain a better understanding of data and how it can be used to improve your business decisions. You'll also learn cutting-edge methods and statistical reasoning, which will open up new opportunities in the workplace.
S.no
Courses
Duration
Requirement
1.
Bachelor's in Business Analytics
3 to 4 years

Successful completion of 12th grade.
Required minimum score in English test.

2.
Master's in Business Analytics
1 to 2 years

Successful completion of bachelor's degree in a relevant field.
Required minimum score in English test
Career Prospects and Scope of Business Analytics Abroad
Business Analytics courses abroad provide excellent career options for those looking to break into the business or technology field. The course prepares you for a managerial or consulting job in business and/or technology by teaching you analytical and problem-solving skills that are essential to thrive in these industries. The average salary for a business analyst is $30,000 to $70,000, making it a lucrative field to enter.
List of Business Analytics jobs:
Marketing Analyst

IT Analyst

Business Analyst

Financial Analyst

HCM Consultant

Trade Compliance Analyst

Project Manager

Business Analytics Consultant

Systems Analysts

Data Quality Manager

Market Research Analyst

Human Resource Analyst
Best Countries to Study Business Analytics
If you're looking for top-ranked universities to study business analytics abroad, look no further than these top study destinations! You'll be able to choose from a variety of courses to suit your needs, and you also have the option to divert from your original course and embark on a new and fascinating adventure! Education isn't the only thing you'll gain from these experiences, you'll also come away with a new perspective, a sense of adventure, and a renewed passion for learning.
Best Universities to Study Business Analytics
There are many great universities to study business analytics abroad and work in this field after graduation. We have selectively chosen a few such institutions, and it is worth noting that a business analytics degree obtained from any of these universities is widely acknowledged on a global scale.
University of Strathclyde
University of Nottingham
Sheffield Hallam University
Head over to the nearest AECC office or fill out the inquiry form to obtain in-depth information about these study destinations, the best universities to attend, and how to get started on pursuing your desired degree in business analytics.
Frequently Asked Questions
Which country is best to study Business Analytics in?
The United States, Australia, and the United Kingdom are the top study locations for Business Analytics courses, and they also have some of the best universities that offer this course.
Can anyone study Business Analytics?
What are the subjects covered in Business Analytics?
What is the annual fee for Business Analytics Abroad?
What are the available courses that can be taken to pursue a career as a business analyst?
Is Business Analytics a good career?
How to apply Business Analytics Abroad?
We See Your Potential and Help You to Study Business Analytics Abroad That Adds Significant Value to Your Future.
Our international education counsellors proactively guide and support the international students in choosing the top-ranking universities and the best courses to achieve their career goal. We make sure our students are provided with personalised support when applying to study business analytics Abroad.
To get in touch with our expert team, simply leave your details below and we'll call you for a FREE consultation.

LAM'AAN LATHEEF , MALDIVES,
THIRU JASMI, KLANG VALLEY,
PEE HUI HAN, KLANG VALLEY,
YEE HAOW KHOO, KLANG VALLEY,