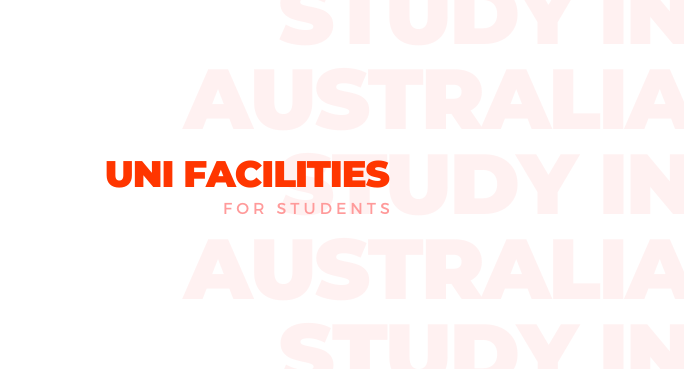 Planning to pursue a degree in Australia? The 'Land Down Under' as the country is popularly called is known for its high-ranking universities, government-funded programs and is an amazing place for research. The country is considered to be one of the most popular destinations for higher education.
According to the 2020 Times Higher Education World University Rankings, out of the 35 top universities in Australia, 6 of them feature in the prestigious top 100. Many of Australia's universities also rank highly in the 'performing well in teaching', 'research output' and 'international outlook' categories.
Choosing the right university is important. It is also worth exploring what a prospective university looks like. The facilities for students in a university varies depending on the campus size, the number of students and funding. Hundreds of students dream of travelling to Australia for their higher education. So, here are some highlights of the facilities available in Australian universities for you!
 
Curtin University - The Agency


Curtin is a wonderful facility for students pursuing marketing majors. The Agency is a new teaching and research facility that allows business students and professionals to track online trends in real-time. It lets you experience first-hand on how major global brands and companies monitor their online presence using social media analytics for campaigns and events in a technology-rich environment. 
The Agency has a track of all live social media activity where it provides a visual display by highlighting the trending hashtags, comments and shares from Facebook, Twitter and other key platforms. The workspace at 'The Agency' is fitted with 24 workstations and a breakout zone for a brainstorming session and group collaboration which makes the experience real for the students.  And if you are pursuing your course online you can also access and benefit from The Agency's integrated software no matter wherever you are.
 
The University of Western Australia (UWA) - The Rosemarie Nathanson Financial Markets Trading Room 


With 60 efficient trading machines for Finance majors, The Rosemarie Nathanson Financial Markets Trading Room is known to be the World-class trading room for undergraduate, postgraduate and PhD students. This trading room serves as a state-of-the-art trading and analysis centre, where students can gain access to real-time data from more than 400 global markets. Over 50 financial terminals and data from the ASX (Australian Stock Exchange), NYSE (New York Stock Exchange) and LSE (London Stock Exchange) are available for the students. It also features 160 monitors and has connections with markets, newsfeeds and even tweets in order to demonstrate and analyse how they interact and impact prices.
The trading rooms also allow the students to explore the industry-standard tools. With the help of these tools, collecting data becomes easier for students. Initially, it used to take weeks to manually collect data but now it can be done within a couple of minutes. The Rosemarie Nathanson Financial Markets Trading Room was entitled Education Project of the Year at the annual international AV Awards in London.
 
University of Technology Sydney (UTS) - Hive Superlab


The University's Hive Superlab is first of its kind in Australia. The design of the lab has been adapted to meet the specific requirements of Science faculty. The Hive Superlab has the capacity of assisting over 250 students from 12 different classes, with experiments from different disciplines running at the same time. The classes will include Medical Science, Biomedical Science, Biotechnology, Biomedical Engineering, Environmental and Forensics.
Students are provided with high-tech audio-visual facilities allowing 7 classes to run simultaneously, where each class is separated into different coloured zones. Unique conduction headphones are given to the students, with which they will be able to hear their facilitator, as well as nearby collaborators right from, where they are.
 
The University of South Australia - Cancer Research Institute
Are you someone who is interested in Pharmacy or Medical Sciences? If so, then The University of South Australia is the right place for you! The University of South Australia Cancer Research Institute – the gateway to Adelaide's BioMED City!  



The University began building its famous Cancer research institute in the mid-2015. The institute is considered as a new leading destination for health research and teaching, benefiting from industry connections, latest tools, experienced staff, cancer researchers and strong links with internationally renowned research concentrations. Students are given access to the latest learning facilities equipped with subjects based on interesting pharmacy and pharmaceutical science courses.  
 
The University of Queensland - Central Library
Are you an avid reader? If yes, then the Central Library is a great place for you! The library has a large multidisciplinary collection with 24/7 study space for the students. How cool is that? The Central Library offers a range of study tools that is available to help the students with their studies. Some of the tools include note-taking, brainstorming and mind-mapping tools. Other tools include highlight and annotate PDF documents and books.



In addition, there is a seating light on the library map (just like our car park tracking system, but in the library) which will tell you which seat is occupied to save your valuable time. The library has 4 levels where each has its own facilities, meeting rooms, study rooms, consultation rooms, presentation room, postgraduate lockers, etc., to name a few.  If you want to grab a cup of coffee and have a chat with your friends, there is a study space outside the library- the Duhig Place, with shaded seats and tables, power points and Wi-fi facilities.
 
Victoria University - VU Hanger: Project startups platform for students 
Got a Business Idea? Plan to launch a startup? Here's something for all the budding entrepreneurs!



Victoria University has launched a startup hub that goes by the name 'VU Hanger'! According to Victoria University, more than 4 in 5 Aussie startup founders are VU graduates. This innovative hub not only benefits the university students and staff but just anyone in the local community who needs some guidance on opening a startup or a little help on improving an existing business.
To encourage students in startups, VU offers free business advice, resources, and delivers both short and crash courses using modern methodologies. The VU Hanger team believes in the importance of fostering growing entrepreneurs. The team is run by a set of six diverse and successful entrepreneurs, led by Gus Balbontin, former publishing executive director and the CTO of Lonely Planet. 
H

O

W

 

'

B

O

U

T

 

S

O

M

E

T

H

I

N

G

 

F

U

N

 

N

E

X

T

?

!
👇👇👇👇👇👇👇👇👇👇👇👇👇👇👇👇👇👇👇👇👇👇👇

 
Australian National University - The Lounge 
Wanna take a break from all the studying? The ANU has a Union Bar for its students and also for the ones outside the university.



It's the perfect place for relaxing over a drink (18 & above only pls), cocktails in summer, and the best place to catch up for a pint of cold beer and a game of pool with friends after class hour. It's also spacious enough to accommodate up to 300 people. Sounds like fun, doesn't it? Every Thursday and Friday evening, the bar hosts a DJ night for the students with some amusing acoustic acts. Stress? I don't know what is stress anymore!
PS: Make sure you drink responsibly... Don't do stupid drunk things!
 
There are many more amazing facilities provided by other universities too! If you still have a lot of questions about these special facilities offered by the universities,
Contact us
and talk to our educational experts now to get a FREE consultation right away!