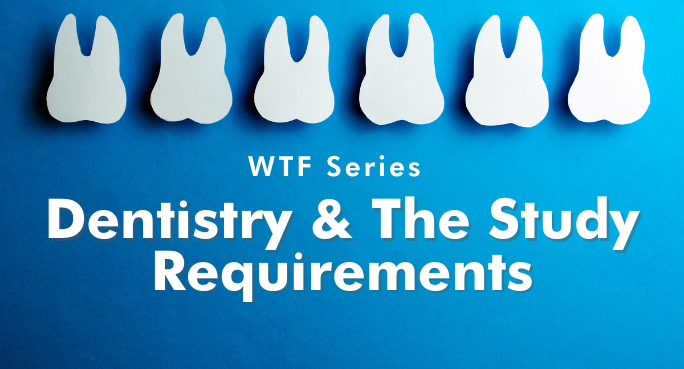 Hey there, happy to see you again! In this week's WTF series, we are going to talk about oral health! If you would like to become a legally authorized tooth fairy (aka dentist) in the future, read this blog and get all your queries answered about some of the popular Dental Science courses offered by two of the best universities in Australia!
1. Only two universities in Australia are recognised by the Malaysia Dental Council. Are there any rankings between the 2 universities?
The University of Adelaide and The University of Queensland are the only two Australian universities recognised by the Malaysia Dental Council. Apart from a few private rankings lists, there are no standard or official rankings. Therefore, there are no rankings between these two universities. 
2. What are the differences in entry requirements for dentistry at these two universities?
The University of Adelaide
The University of Queensland
 Bachelor of Dental Surgery 

IELTS Overall Band:

7.0 (No band less than 7.0)

 
Eligibility:

The students must pass the UCAT ANZ Test. Followed by this, they must clear the interview session.

Bachelor of Dental Science (Hons)

IELTS Overall Band:

7.0 (No band less than 7.0)

Eligibility:

There are no tests or interviews. The university offers only 1 intake with 2 deadlines. Therefore, students who do not get through the first time can reapply for the second deadline in the same year. 
3. How many places are open for international students in both universities?
4. Why does The University of Adelaide require an interview and a test while UQ does not require them?
The admission procedure for each university is different. Compared to The University of Queensland, The University of Adelaide has reserved a lesser number of seats for international students. Therefore, to ensure the admission of the most eligible candidates, the University of Adelaide, conducts both a test and an interview. 
5. What are the key highlights of these universities in terms of facilities and support?
The University of Queensland has always worked with government and business partners to bring solutions to the world's most challenging problems. It  houses the award-winning UQ Oral Health Centre (OHC), the largest in size and scope in the country. The facility contains around 150 dental chairs in over 11 clinics, a PC2 lab. It also has several dedicated patient clinics that are purpose-built for exceptional dental care and treatment.
As a member of the Group of Eight, 100% of The University of Adelaide 's research sub-fields are graded at or above world standard. Dentistry students can benefit from the Adelaide Dental Simulation Clinic containing a supporting Clinical Dental Education Unit, plaster laboratory, radiology and sterilization spaces, virtual reality dental simulators and CAD-CAM scanning technology. 
6. What about postgraduate specialization opportunities?
The postgraduate courses at The University of Queensland are taken as standalone courses and also taken as a pathway to PhD programmes at UQ. Options such as: 
Doctor of Clinical Dentistry

Dento-Maxillofacial Radiology

Endodontics

Periodontics

Prosthodontics

Special Needs Dentistry
The University of Adelaide offers a Master of Philosophy programme in Dentistry. Special internship opportunities are available for international students pursuing postgraduate programmes. In addition to this, they also offer grants and scholarships for selected postgraduate courses.
7. What does the future of Dentistry look like?
A report by Job Bank Canada hints at an increase in the number of jobs of dentists. It suggests a labour demand between the years 2019 and 2028. Moreover, the U.S. News & World Report 100 Best Jobs has ranked the field of Dentistry among the top 100 jobs for the sixth consecutive year. The U.S. Bureau of Labor Statistics has predicted an increase of up to 10, 400 new dentist jobs through the year 2028.
Ready to put beautiful smile on people? Get in touch with our education counsellors at
AECC Global Malaysia
. Our consultants have been helping students like you make their study abroad dreams come true. Start the first step of your study abroad path with us today! 
Contact us now.