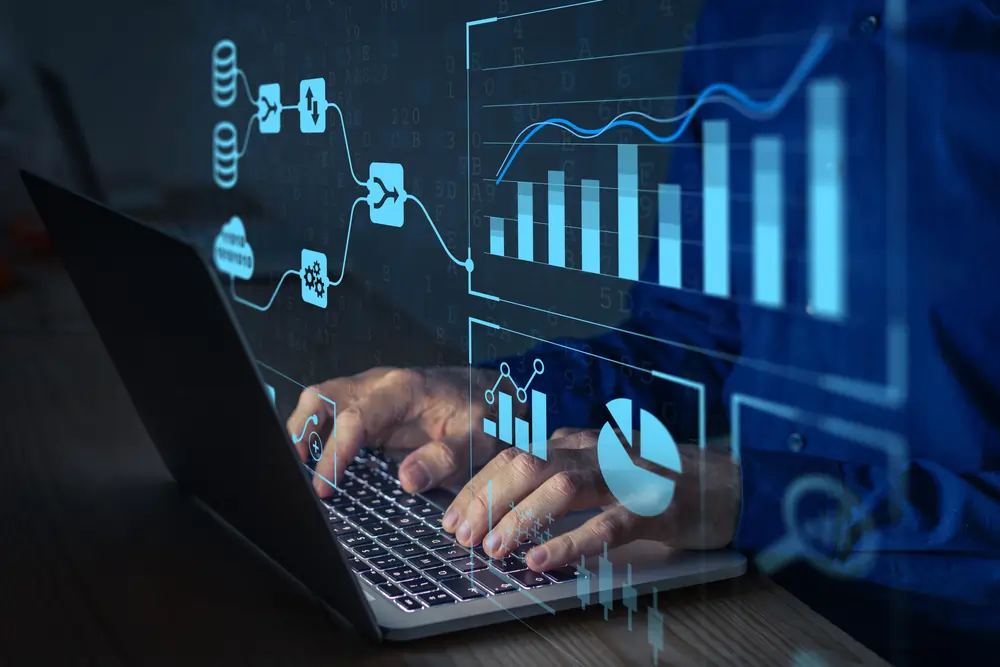 Data Analytics Course Overview
Data Analytics is a field where numbers come to life and where insights are uncovered from the depths of a sea of data. It's a journey into the unknown, where every click, every swipe, and every keystroke is a clue waiting to be discovered. 

Data Analytics is a field that combines technology and creativity. It requires you to be both analytical and imaginative as you work with a variety of tools and techniques to uncover hidden patterns and trends. The insights you gain from your data analysis can be used to make informed decisions and drive change in various industries, such as healthcare, finance, and marketing.

Also, it is not just about numbers. It's about people. It's about understanding human behaviour, predicting future trends, and making informed decisions. It's a tool that can revolutionise entire industries, improve lives, and shape the future. 

So if you have a curious mind, with a passion for problem-solving and a love for all things data, then the Data Analytics course is ideal for you. It's a world waiting to be explored, a sea of data waiting to be discovered, and a journey of endless possibilities waiting to be had.
Why Study Data Analytics Course Abroad?
Are you ready to embark on a journey that will transform your understanding of Data Analytics? With a wealth of opportunities for learning, growth, and discovery, studying a Data Analytics course abroad will be an experience you will never forget. Here are just a few of the reasons why you should consider studying a Data Analytics course abroad:
Access to top universities: By pursuing Data Analytics abroad, you'll get to attend one of the world's best universities in the field, well known for their expertise and the top-notch education they would provide.
Global reputation: Attending a renowned university abroad can enhance your reputation and increase your employability, as employers will recognise the quality of education you have received.
Cutting-edge curriculum: Top universities abroad often offer a cutting-edge curriculum that is constantly updated to reflect the latest developments in the field of Data Analytics.
Experienced faculty: Renowned universities abroad typically have experienced faculty who are experts in the field and can provide you with an in-depth understanding of Data Analytics.
Strong industry connections: Top universities abroad often have strong connections with industry leaders and can provide you with valuable opportunities for internships, networking, and job placements.
Career opportunities: Pursuing a Data Analytics course abroad can demonstrate to employers that you are adaptable, culturally aware, and have a global perspective, all of which are highly valued in the field. This can increase your chances of landing a job and advancing in your career.
Subjects that will be covered:
Introduction to Data Analytics

Data wrangling

Data structure

Algorithm

Data mining

Data ethics

Probability 
Requirements to Study Data Analytics Courses Abroad
There are a few prerequisites that you need to meet to apply for a Data Analytics course abroad – check out the table below.
S.no
Courses
Duration
Requirement
1.
Bachelor's
3 to 4 years

Successful completion of the pre-university course with a good score in maths.

Required minimum score in English test.

2.
Master's 
1 to 2 years

Successful completion of a bachelor's degree in a relevant field.

Required minimum score in English test.

3.
Phd
3 to 4 years

Successful completion of a master's degree in a relevant field.

Required minimum score in English test.
In terms of English proficiency, you must have taken either the IELTS, TOEFL, or PTE exams, depending on your university's requirements.
University of Illinois at Chicago
Colorado State University
Illinois Institute of Technology
New Jersey Institute of Technology
Suffolk University
Kent State University
University of Mississippi
Career Prospects and Scope of Data Analytics Abroad
Imagine having the ability to turn vast amounts of data into actionable insights, driving business decisions and shaping the future. With a career in Data Analytics, the possibilities are endless. Whether you're interested in working for a large corporation, starting your own company, or pursuing a career in academia, the field of Data Analytics always has something to offer.

But it's not just about the numbers - the scope of Data Analytics extends far beyond the data itself. It's about the stories the data tells, the insights it reveals, and the impact it has on our world. As a data analyst, you'll be at the forefront of this change, helping to drive innovation and make a real difference in the world.

Here's a list of various career paths within Data Analytics:
Data scientist

Data engineer

Data analyst 

Data architect

Market analyst

Quantitative analyst

Machine learning engineer

Statistician

Academia

Chief data officer

Data analyst consultant 

Analytics manager
Best Countries to Study Data Analytics
If you're looking for top-ranking universities to study Data Analytics abroad, look no further than these study destinations:
These top study destinations have emerged as the crème de la crème when it comes to Data Analytics course. With a plethora of courses to choose from, you can tailor your learning experience to fit your unique needs and interests. You also have the flexibility to explore new educational avenues as well. Attending a well-reputed study destination isn't just about earning a degree. You'll come out with a fresh perspective and the adept skills required to succeed in Data Analytics. 

Head over to the nearest AECC office to get an in-depth understanding of when, where, and how to get started on your dream degree in Data Analytics.
Best Universities to Study Data Analytics
There are many great universities to study Data Analytics abroad and work in this field after graduation. We have selectively chosen a few such institutions, and it is worth noting that a Data Analytics degree obtained from any of these universities is widely acknowledged on a global scale.
Northumbria University
University of Portsmouth
Birmingham City University
University of Waikato
Auckland University of Technology
Australian National University
University of Wollongong
The University of Adelaide
Flinders University
Head to us if you want to acquire more in-depth information about these study destinations, the best countries to study in, or the best universities to attend.
Frequently Asked Questions
Which Data Analytics course is best?
As the demand for data-driven decision-making increases, the interest in Data Analytics courses has skyrocketed, with so many options available. Here's the list of Data Analytics courses:
Applied Data Analytics

Business intelligence and Data Analytics

Business Data Analytics

Data Analytics and artificial intelligence

Data Analytics
Does Data Analytics involve a lot of maths?
What are the best universities to study Data Analytics courses?
Is Data Analytics a good career?
How much does it cost to study Data Analytics?
We See Your Potential and Help You to Study Data Analytics Abroad That Adds Significant Value to Your Future.
Our international education counsellors proactively guide and support the international students in choosing the top-ranking universities and the best courses to achieve their career goal. We make sure our students are provided with personalised support when applying to study Data Analytics abroad.
To get in touch with our expert team, simply leave your details below and we'll call you for a FREE consultation.

LAM'AAN LATHEEF , MALDIVES,
THIRU JASMI, KLANG VALLEY,
PEE HUI HAN, KLANG VALLEY,
YEE HAOW KHOO, KLANG VALLEY,