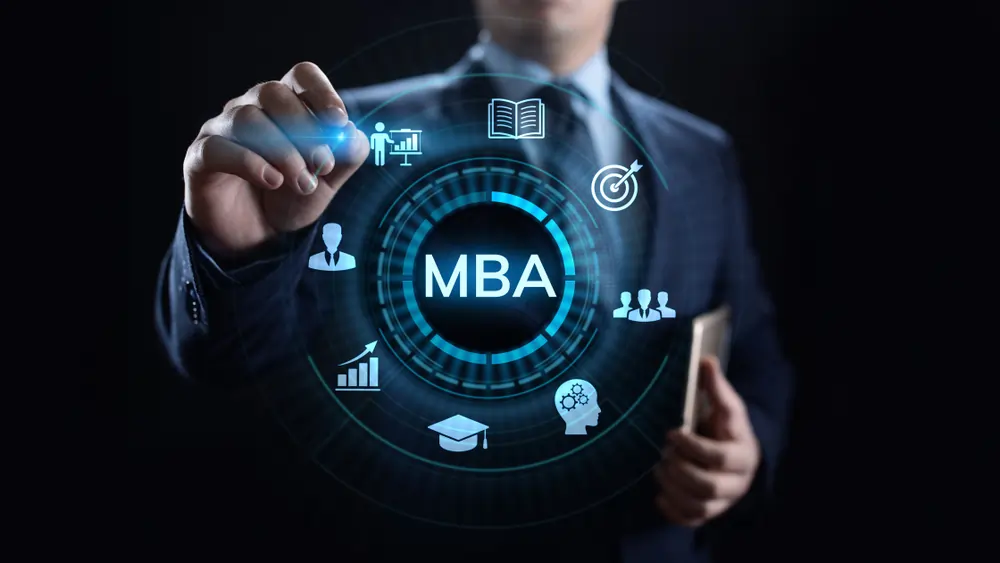 MBA programs are a great way to further your studies and prepare for a career in business. With an MBA, you'll develop essential management and leadership skills that will help you succeed in any business setting. Pursuing an MBA abroad can also open up new opportunities in the global business world. So whether you're seeking to climb the corporate ladder or launch your own business, an MBA abroad could be the right choice for you.
MBA programs abroad offer a deep understanding of key management skills and leadership abilities. They provide early career managers and junior leaders with a comprehensive knowledge of how organisations operate, giving them insight into the various functional disciplines and how they interact with one another. This allows them to make more informed decisions and become effective leaders in their respective fields.
In today's ever-changing and interconnected world, it is more important than ever to understand the complexities involved in managing organisations. Through the incorporation of diverse stakeholders and meeting their expectations, in this course, you will learn how to create short and long-term sustainable value for wider society.
The decision to pursue an MBA abroad is a life-changing one. It is not simply about acquiring new professional skills but rather about embarking on an important transitional stage in both personal and professional development. As a future leader and decision-maker, you will gain the confidence and practical skills required to lead a successful business.
Why Study MBA Course Abroad?
The Master of Business Administration (MBA) is a popular and highly sought-after graduate degree among students seeking to gain an advantage in the competitive business world. An MBA can provide you with the skills and knowledge necessary to succeed in a global economy. The average salary for MBAs is also much higher than it is for most other professions.
MBA courses abroad typically provide an integrated experience designed to help you develop core business skills like management, leadership, and employability. Many programs also include a capstone experience that allows you to apply what you've learned in a real-world setting.
Pursuing MBA courses abroad can provide you with a broader perspective of marketing trends and skills. An MBA abroad also gives you a significant advantage in your career, as you will be exposed to the latest skills and strategies in leadership, marketing, and financial decision-making. These qualities are essential in the corporate world.
MBA courses abroad typically focus on key marketing concepts like managing people and operations for ethical and sustainable outcomes, as well as refining your accounting and finance skills to better analyse business practices. The structure of these programs can vary depending on the university you attend, but most follow a similar module format. Doing MBA courses abroad has the advantage of allowing you to take elective courses to round out your experience, and it's always beneficial to have knowledge in other subject areas since it can accelerate your career.
MBA courses abroad not only provide regular classes but also offer seminars and workshops led by experienced professionals in the field. These sessions give you a more in-depth look at the subject matter and help you better understand the concepts through real-world examples. 
In addition to the academic aspects of an MBA program abroad, there are also a number of activities designed to further enhance your management skills and knowledge. These can include business simulations, participation in recognised MBA competitions, career development sessions, and professional networking opportunities. Gaining more practical knowledge and experience through internships at top businesses will give you a leg up when applying for job opportunities down the road.

Subjects that will be covered:

Financial Management

Decision Making

Strategic Marketing

Leading and Managing

Project Management

Marketing Research

Innovation Management
Requirements to Study MBA Courses Abroad
There are a few MBA courses that are only 1.5 years long, but most of them are two years. To be eligible for an MBA course abroad, there are a few criteria that you must meet. Check out the table for more information:
S.no
Courses
Duration
Requirement
1.

Master of Business Administration

in Law

1.5 years to 2 years

Successful completion of a bachelor's degree.

Managerial or relevant work experience (required by a few universities).

There are certain score requirements for tests like IELTS, TOEFL, and PTE in order to denote English proficiency. The necessary score for each test differs based on the country.
Career Prospects and Scope of MBA Abroad
The MBA degree is often seen as a stepping stone to success in the business world. However, studying for your MBA abroad can provide you with so much more than just a successful career. You will have the opportunity to work with businesses from all over the world, refining your communication skills in the process. Additionally, many MBA graduates who study abroad find themselves landing jobs at top multinational firms. So not only will you gain invaluable experience and skills, you'll also have a headstart on acquiring your dream career!
MBA degrees provide access to a broad spectrum of professional opportunities. Whether you aspire to work in a corporate setting, establish your own business, or pursue academia, there is an appropriate path for you within the world of business administration.
The MBA program provides an opportunity for students to gain practical experience by completing an internship. This allows them to put their theoretical learning into practice and develop important skills. Internships also give students the chance to network with different business leaders and establish professional relationships.
List of MBA jobs:
Chief Operating Officer

General Manager

Business & Management Consultant 

Board Director

Product Manager

Project Manager

Strategy Manager

Operations Manager

Marketing Manager

Brand Manager

Advertising Manager

Account Manager
Best Countries to Study MBA Abroad
If you're looking for top-ranked universities to study MBA courses abroad, look no further than these top study destinations:
You'll be able to choose from a variety of courses to suit your needs while also having the option to divert from your original course by embarking on a new and fascinating adventure! Education isn't the only thing you'll gain from these experiences, you'll also graduate with a new perspective, a sense of adventure, and a renewed passion for learning. 

Head over to our website if you want to acquire more in-depth information about these study destinations, the best countries to study them in, and the best universities to pick from!
Best Universities to Study MBA
There are many great universities to study MBA abroad and work in this field after graduation. We have selectively chosen a few such institutions, and it is worth noting that an MBA degree obtained from any of these universities is widely acknowledged on a global scale.
University of Strathclyde
University of Essex
The University of Sheffield
University of Auckland
Massey University of New Zealand
Newcastle University
The University of Queensland
Monash University
Macquarie University
Head over to the nearest AECC office or fill out the inquiry form to obtain in-depth information about these study destinations, the best universities to attend, and how to get started on pursuing your desired degree in mba.
Frequently Asked Questions
Is an MBA worth doing abroad?
It's a definite yes. Job offers following an MBA are far more rewarding abroad. Since many top corporations are lured to institutions abroad, graduates from internationally famous universities can find employment with competitive pay and presumably more job opportunities.
What is the duration for an MBA?
Is GMAT/GRE compulsory for MBA abroad?
We See Your Potential and Help You to Study MBA Abroad That Adds Significant Value to Your Future.
Our international education counsellors proactively guide and support the international students in choosing the top-ranking universities and the best courses to achieve their career goal. We make sure our students are provided with personalised support when applying to study MBA abroad.
To get in touch with our expert team, simply leave your details below and we'll call you for a FREE consultation.

LAM'AAN LATHEEF , MALDIVES,
THIRU JASMI, KLANG VALLEY,
PEE HUI HAN, KLANG VALLEY,
YEE HAOW KHOO, KLANG VALLEY,