Authorised education agent for: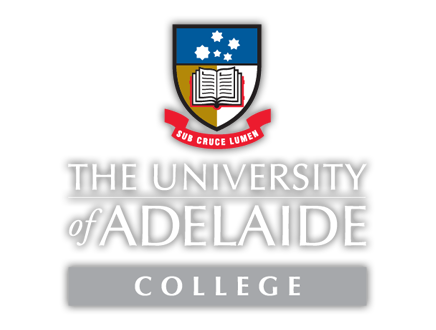 THE PREFERRED PATHWAY PROVIDER TO THE UNIVERSITY OF ADELAIDE
The University of Adelaide
The Preferred Pathway Provider to the University of Adelaide. Students are given guaranteed entry to their degree (Medicine*, Dentistry*, Business, Engineering, Science, Health Sciences…) with no further English language requirement on successful completion of their pathway program.
* Required to fulfill admission test requirement

Central Location

Guranteed* Pathway to the University of Adelaide

Preparation for University

Flexible Study Options
UNIVERSITY FOUNDATION PROGRAMME
If you want to come to Australia and study the Bachelor degree of your dreams then our Foundation Studies Program (FSP) is perfect for you. Due to our unique partnership with the University of Adelaide, all our foundation studies graduates are guaranteed entry to their choice of the many degrees on offer.

STUDY HEALTH & MEDICINE
Thinking of studying a specialised Medicine or Health Sciences degree? The University of Adelaide is one of Australia's best education providers in the area of medicine, producing some of the world's best doctors and surgeons.
DEGREE TRANSFER PROGRAM
Degree Transfer Program (DTP) is equivalent to year 1 of bachelor studies.
(Similar to diploma programme offered by other universities in Australia).
Did you miss out on direct entry to the degree you wanted at the University of Adelaide? No problem. Upon successful completion of our Degree Transfer Program (DTP), you're guaranteed entry straight into the second year of your degree of choice.

Tips for Studying Abroad
Things you should understand for studying abroad!
Tip: 1
Choose the University that Suits You Best
Tip: 2
Rankings Are Not the Most Important Factor
Tip: 3
Choose the Course You Are Truly Interested In
Tip: 4
University Facilities Are Important
Tip: 5
Things to Be Aware Of (Part 1)
Tip: 6
Things to Be Aware Of (Part 2)
Tip: 7
Message for Undergraduate Seekers
Tip: 8
Message for Master Students
Tip: 9
About Study in Australia
For general information about studying in Australia 
click here
. Or for more detail discussion / consultation such as (tuition fees, cost of living, intakes, entry requirements, admission..), please reach out to us via the enquiry form below. 
AECC Free Consultation Services

Destination Guide
Where to go?

University Recommendation
Which university suits me?

Courses & Programmes
What should I study?

Application & Admission
How to apply to the university?

Student Visa Application
How to secure my student visa?

Insurance
Get protected while studying abroad.

Student Accommodation
Where to stay?
Explore University of Adelaide Scholarships
We see your potential and help you to study at University of Adelaide that adds significant value to your future.

Our international education counsellors proactively guide and support the international students in choosing the top-ranking universities and the best courses to achieve their career goal. We make sure our students are provided with personalised support when applying to study at University of Adelaide.
To get in touch with our expert team, simply leave your details below and we'll call you for a FREE consultation.