Representative of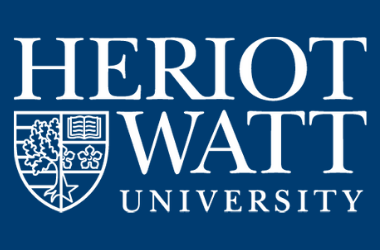 #61 Overall Ranking in UK
Guardian University Guide 2020

University World Tour
A total of 24 talks and workshops covering over 55 subject areas, in collaboration with 37 universities & colleges from Australia, UK, USA and Canada.
It's FREE!
Learn More
About Heriot-Watt University
Established in 1821 and the UK's 8th oldest university, Heriot-Watt University is the world's first mechanics institution. It is divided into 6 schools:-
Energy
Geo-science
Infrastructure and Society
Engineering and Physical Sciences
Social Sciences
Mathematical and Computer Sciences
Textiles and Design
Due to the great performance and international focus on it's education quality, Heriot-Watt has won an award from the Scottish Council of Development and Industry. Also, Times Higher Education named Heriot-Watt as "International University of the Year" in 2018.
The university has five campuses located in:-
Edinburgh
The Scottish Borders
Orkney
Dubai
Malaysia
If students wish to study abroad for a period of time, they are granted with inter-campus transfers or transfer through the Erasmus program. They would still be able to receive the same education quality while experiencing different cultures in different countries.
University

Subjects Ranking
7 Chemistry
8 Mechanical Engineering
10 Civil Engineering
17 Building and town and country planning
22 Chemical Engineering
24 Business, Management & Marketing
24 Economics
25 Mathematics
36 Electronic & Electrical Engineering
(Guardian University League 2020)
MEng Engineering
Duration: 5 years (3/4 years BEng programmes + 1/2 years specialised route). Fees: £19,400 per year Intakes: September
Heriot-Watt is ranked in the world's top #150 for Chemical Engineering and Civil Engineering, with Electrical Engineering placed in the world's top #200.
BSc (Hons) Mathematical, Statistical and Actuarial Sciences
Duration: 4 years  Fees: ££15,080 per year Intakes: September
Mathematics at Heriot-Watt is ranked 
1st in Scotland
 and 
5th in the UK
for overall satisfaction in the National Student Survey 2018. This degree combines material from the Mathematics and Actuarial Science courses, together with specialist actuarial and statistical skills. It also takes a wide-ranging approach to other areas of advanced mathematics. Students will be able to gain:-
Wide knowledge and understanding of modern mathematics
Detailed understanding of certain specific areas of mathematics
Ability to formulate and solve complex real-world problems in mathematical language
Flexible and rigorous approach to problem solving
Confidence in technical writing and communication
Career Opportunities
Business, research and administrative professionals
Business and public service associate professionals
Information technology and telecommunications professionals
BSc (Hons) Computer Science
Duration: 4 years  Fees: ££19,400 per year Intakes: September
Heriot-Watt's Computer Science Department has been delivering BCS-accredited programmes for more than 30 years. In this digitalised 21st century, computing is the key technology for all aspects in life. Almost everyone is touched by computers, either directly through work and home use of desktop systems, mobile devices, media players and toys, or indirectly through the multiple public and private agencies that depend on computers to deliver services to them. This course teaches students the skills to design sound computer-based solutions to real-world problems, strong foundation in contemporary computer science theory and practice and specialised knowledge in a focused field. Students have the opportunity to learn in practical environment and be career ready.
Courses Available
Computer Science BSc (Hons)
Computer Science (Artificial Intelligence) BSc (Hons)
Computer Science (Cyber Security) BSc (Hons)
Computer Science (Data Science) BSc (Hons)
Computer Science (Games Programming) BSc (Hons)
Computer Science (Software Engineering) BSc (Hons)
Computer Systems BSc (Hons)
Computer Systems (Games Programming) BSc (Hons)
Information Systems BSc (Hons)
Information Systems (Interaction Design) BSc (Hons)
Information Systems (Internet Systems) BSc (Hons)
Information Systems (Management) BSc (Hons)
Software Engineering MEng
To get in touch with our expert team, simply leave your details below and we'll call you for a FREE consultation.

"Very reliable and efficient. Ms Tan Mei Pei helped me throughout the process and ensured that I had all the documents. Helped me prepare everything and submit my visa in a short amount of time. Would not have been able to do it all by myself in such a timeframe. Highly recommended"
"Miss Tan Mei Pei was a tremendous help in my application to the university as well as for an australian visa. She was very patient and provided detailed guidance which made the process very smooth. Very grateful for everything & would recommend her services to anyone looking to study in Australia"
"The staff (Ms Tan) of AECC Global who guided me is very helpful and efficient. There is no delay in anything or any inconvenience. Her work was all up to date. AECC Global is a very good choice if you are considering studies abroad."
"It was great working with the education counsellor from AECC. They are very efficient and helpful for any requested information. Their service makes the process much easier and less stressful. AECC is highly recommended! Thank you for the support and guidance."
"Great and efficient service by AECC and special shout out to Mun Yue whom have helped me from Day 1 till the day I got my visa. Answering all my questions even after working hours and helping me with the applications to different unis and solving my accommodation problems. Highly recommended!"
"I applied for multiple universities alone, and only required the help of AECC when applying to Deakin University. Honestly I wish I'd have found them earlier and got their assistance for my other applications. My representative - Mun Yeu, was super helpful and quick to respond. 12/10 would recommend anyone."