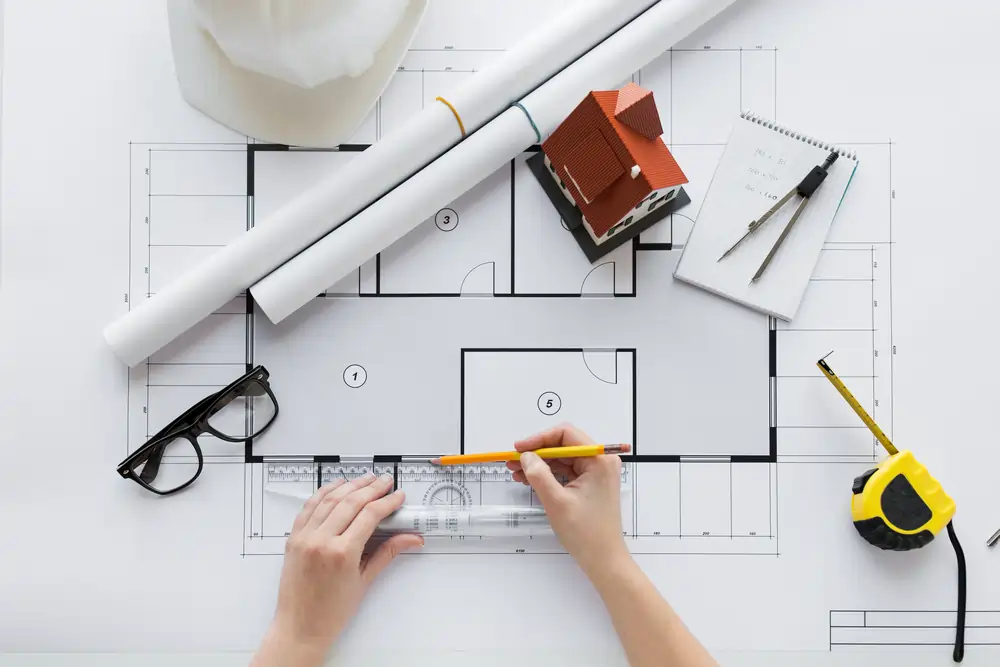 Have you ever thought about what goes into designing and constructing the buildings around you? Have you wondered how architects create functional spaces that are also pleasing to look at? If so, then an Architecture course abroad might be just for you! Architects are highly creative professionals who use their imagination and technical skills to design structures that meet all the needs of their clients.
Architecture is one of the oldest and most revered professions in the world. As professional creators of living and working spaces, architects have a big impact on the quality of our built environment. By thoughtfully designing buildings that are safe and functional as well as beautiful, they make a real difference in people's lives.  It is a challenging field that requires both creative thinking and technical expertise.
Good architecture takes into account, not just the appearance of a building, but also its purpose and how it will be used. The safety of those who will occupy the space is always a top priority. By taking all of these factors into consideration, architects can create truly amazing spaces that improve the quality of life for everyone.
When you study for an architecture degree abroad, you get a lot of job prospects. By attending classes abroad, you may learn about a diversity of techniques to design and methods of construction used in many countries. When applying for professions in the field of architecture, this may provide you with a competitive edge.
Why Study Architecture Courses Abroad?
Architecture is a fascinating field that combines art, science, and engineering. It's also a field that offers great job security and potential for career advancement. There are so many different cultures and styles of architecture out there. By studying an architecture degree abroad, you will learn first-hand about the history and culture that influence the local style of architecture and get to travel and explore amazing places while you're at it! This experience will help you develop a well-rounded understanding of design principles that can be applied anywhere in the world. You'll also learn how to think outside the box and come up with innovative solutions to problems.
There is no one-size-fits-all answer when it comes to learning about architecture. However, studying architecture courses abroad can be a great way to experience different cultures and learn new techniques. By immersing yourself in the architectural scene of another country, you will be exposed to new ideas and perspectives. You may also have the opportunity to study the history and theory of architecture, as well as sustainable design principles. Plus, you'll get hands-on experience with construction methods in studio courses.
As a student of architecture, you will work on a variety of design projects. These can include efforts that are completely experimental as well as more useful, actual industry initiatives. Your 2D and 3D design abilities will both be enhanced by all this training.
The benefit of studying for an
architecture degree abroad
is that there are different levels of degrees. The B.Arch degree, which is a bachelor of architecture programme that normally takes five years to complete, is one of the several 
architecture courses abroad
. There is also the option of pursuing a three or four-year BA, BAS, or BSc degree as a pre-professional programme, which requires additional study in the form of an M.Arch degree to become a certified architect.
S.no
Courses
Duration
Requirement
1.
Bachelor's
3 to 5 years

Successful completion of 12th grade / pre-university studies.
Required minimum score in English test.

2.
Master's
2 years

Successful completion of bachelor's degree in Architecture or in a relevant field.
Required minimum score in English test
Career Prospects and Scope of Architecture Abroad
A career in architecture can be very rewarding, both financially and emotionally. It is a field that is in high demand all over the world, due to the increasing number of new construction projects. Architecture courses abroad will give you the skills and knowledge you need to be successful in this competitive field.

The job market for architecture majors has never been better, and there are plenty of exciting career prospects to choose from.
List of Pshycology jobs:
Architect

Urban Designer 

Landscape Architect

Interior Designer

Heritage Conservationist

Furniture Designer

Project Manager

Architectural Historian

Architectural Researcher

Commercial Architect

Digital Designer 

Building Consultant
Best Countries to Study Architecture
If you're looking for top-ranked universities to study architecture abroad, look no further than these top study destinations! You'll be able to choose from a variety of courses to suit your needs, and you also have the option to divert from your original course and embark on a new and fascinating adventure! Education isn't the only thing you'll gain from these experiences, you'll also come away with a new perspective, a sense of adventure, and a renewed passion for learning.
Best Universities to Study Architecture
There are many great universities to study architecture abroad and work in this field after graduation. We have selectively chosen a few such institutions, and it is worth noting that an architecture degree obtained from any of these universities is widely acknowledged on a global scale.
University of the West of England Bristol
Head over to the nearest AECC office or fill out the inquiry form to obtain in-depth information about these study destinations, the best universities to attend, and how to get started on pursuing your desired degree in architecture.
Frequently Asked Questions
What are the available courses that can be taken to pursue a career as an architect?
There are many different types of courses available for those interested in architecture. You can pursue a dual degree program, or a traditional B.Arch or M.Arch and do a specialised course for master's. Here's a list of courses to choose from:
Bachelor of Architecture (BArch)

Bachelor's in Interior Architecture  

Bachelor's in Engineering and Architectural Design

Master of Architecture

Master of Design (Architecture and Design)
What is the annual fee for architecture courses abroad?
Is it good to study architecture abroad?
What are the subjects covered in an architecture degree abroad?
What can I do with a bachelor's degree in architecture?
How to apply for an architecture degree abroad?
We See Your Potential and Help You to Study Architecture Abroad That Adds Significant Value to Your Future.
Our international education counsellors proactively guide and support the international students in choosing the top-ranking universities and the best courses to achieve their career goal. We make sure our students are provided with personalised support when applying to study Architecture Abroad.
To get in touch with our expert team, simply leave your details below and we'll call you for a FREE consultation.

LAM'AAN LATHEEF , MALDIVES,
THIRU JASMI, KLANG VALLEY,
PEE HUI HAN, KLANG VALLEY,
YEE HAOW KHOO, KLANG VALLEY,