Authorised Representative for: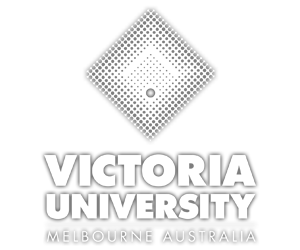 TOP 2% OF UNIVERSITIES IN THE WORLD
TIMES HIGHER EDUCATION WORLD UNIVERSITY RANKINGS 2019
Victoria University is the 1st Australian university to use a 'block' model of learning, where you study one unit at a time rather than juggling several at once. The VU Block Model is focused on making your transition to university easier and your chances of study success greater. It is also designed to make sure you're ready to enter the workforce – delivering career-focused activities and programs that you won't find elsewhere.
When you study with us, you'll benefit from this award-winning learning model that's delivering exceptional results – pass rates and academic achievements such as high distinctions have all increased since it was introduced.
Ranked Top 2% Worldwide
Times Higher Education (THE) World University Rankings 2021
Ranked 51st Worldwide
Times Higher Education Asia–Pacific University Ranking, 2019
No.1 for employability
Australia's top university for employability (QILT)
At Victoria University there's more than one way to succeed at learning. We provide multiple unique ways to achieve a world-class education and an exciting career.
The different ways of learning includes:
Work placements with our industry partners
The VU Block Model – with smaller classes, focused learning and better results
Employability programs that prepare you for work after graduation
All of this is enriched by Victoria University's diverse and inclusive university environment.
Subject areas that you can consider:
Business
MBA
Resource Planning
Information system
Supply Chain
Logistic & International Trade
Project management
Tourism & Hospitality
Health & Science
Derma Science
Sports Science
Osteopathy
Digital Health and Informatics
Study Indicators
Tuition Fees:
$$$

$$
Living Cost:
$$$$

$
Victoria University Subject Rankings
Ranked 9th
Sports Science schools and Departments
Ranked 32nd
Automation and Control
Ranked 101-150
Hospitality and Tourism Management
Ranked 101-150
Computer Science and Engineering
Tips for Studying Abroad
Things you should understand for studying abroad!
Tip: 1
Choose the University that Suits You Best
Tip: 2
Rankings Are Not the Most Important Factor
Tip: 3
Choose the Course You Are Truly Interested In
Tip: 4
University Facilities Are Important
Tip: 5
Things to Be Aware Of (Part 1)
Tip: 6
Things to Be Aware Of (Part 2)
Tip: 7
Message for Undergraduate Seekers
Tip: 8
Message for Master Students
Tip: 9
About Study in Australia
For general information about studying in Australia 
click here
. Or for more detail discussion / consultation such as (tuition fees, cost of living, intakes, entry requirements, admission..), please reach out to us via the enquiry form below. 
AECC Free Consultation Services

Destination Guide
Where to go?

University Recommendation
Which university suits me?

Courses & Programmes
What should I study?

Application & Admission
How to apply to the university?

Student Visa Application
How to secure my student visa?

Insurance
Get protected while studying abroad.

Student Accommodation
Where to stay?
Explore Victoria University Scholarships
We see your potential and help you to study at Victoria University that adds significant value to your future.

Our international education counsellors proactively guide and support the international students in choosing the top-ranking universities and the best courses to achieve their career goal. We make sure our students are provided with personalised support when applying to study at Victoria University, Australia.
To get in touch with our expert team, simply leave your details below and we'll call you for a FREE consultation.

LAM'AAN LATHEEF , MALDIVES,
THIRU JASMI, KLANG VALLEY,
PEE HUI HAN, KLANG VALLEY,
YEE HAOW KHOO, KLANG VALLEY,