Study Blockchain Technology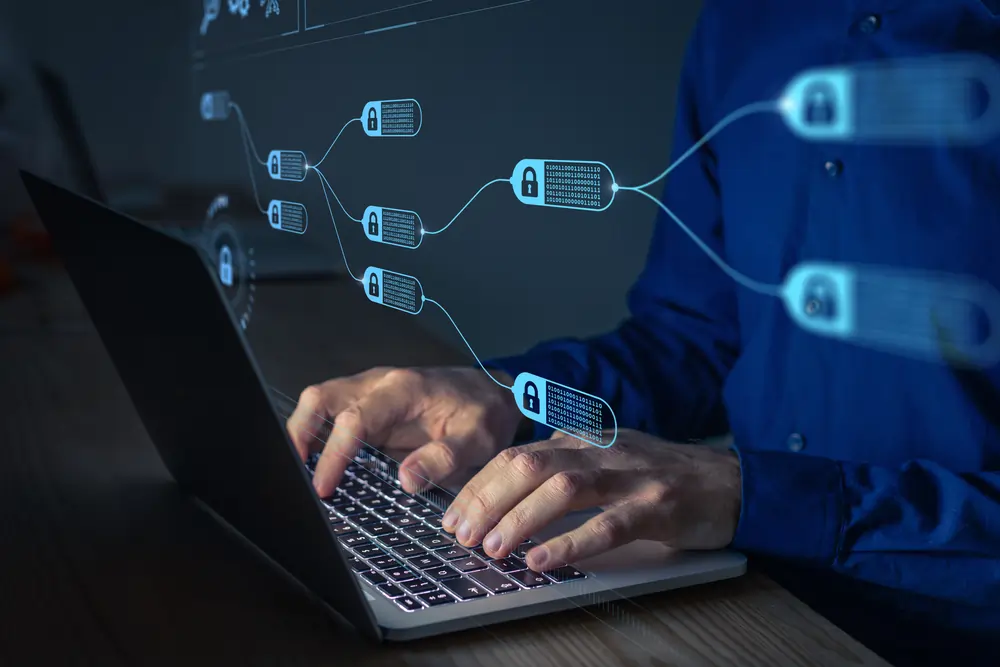 Blockchain Technology Course Overview
Blockchain technology is a revolutionary innovation that is changing the way we think about the security and transparency of digital transactions. At its core, blockchain is a decentralised ledger that allows for the safe and secure transfer of data without the need for a central authority. Think of it as a digital notary, ensuring that every transaction is recorded and verified in a way that is tamper-proof and incorruptible.
But blockchain is more than just a secure way to transfer digital assets. It has the potential to transform entire industries, from finance to healthcare to logistics. Enrolling in a blockchain technology course abroad can be an exciting opportunity to gain a comprehensive understanding of this innovative field. From the basics of blockchain technology to more advanced topics like smart contracts and decentralised applications, you'll be equipped with the knowledge and skills needed to succeed. But that's not all - studying abroad also means you'll have access to the latest trends and developments in the blockchain industry.
Why Study Blockchain Technology Course Abroad?
By studying abroad, you'll have access to world-class instructors and cutting-edge technology, providing you with the knowledge and skills you need to succeed in a fast-paced and dynamic industry. From the basics of blockchain technology to more advanced topics like smart contracts and decentralised applications, you'll gain a deeper understanding of this powerful technology and its endless possibilities.
Moreover, studying abroad also allows students to develop their interpersonal and cross-cultural communication skills. Working with peers from different parts of the world brings a diverse perspective to discussions and projects. Learning how to collaborate effectively with colleagues from different backgrounds and cultures can be an invaluable skill for a career in blockchain technology, which often involves working with international teams.
Furthermore, studying blockchain technology abroad can also provide students with an opportunity to gain broader practical experience in the field. Top institutions abroad offer world-class internship programs and hands-on training opportunities, allowing students to work with real-world blockchain applications and develop blockchain-based solutions.
Subjects that will be covered under the blockchain technology course abroad:
Evolution of blockchain

Basic elements of blockchain

Variables and data types

Searching and sorting

Types of blockchains

Crypto Primitives

Conditionals, loops, and functions
Requirements to Study Blockchain Technology Courses Abroad
There are a few prerequisites that you need to meet to apply for a blockchain technology course abroad – check out the table below.
S.no
Courses
Duration
Requirement
1.
Bachelor in Blockchain Technology
3 years

Successful completion of the pre-university course with good scores in maths. 

Required minimum score in English test.

2.
Masters in Blockchain Technology 
1 to 2 years

Successful completion of a bachelor's degree in a relevant field.

Required minimum score in English test.
In terms of English proficiency, you must have taken either the IELTS, TOEFL, or PTE exams, depending on your university's requirements.
Career Prospects and Scope of Blockchain Technology Abroad
Blockchain technology has taken the world by storm in recent years. With its exponential growth, it has opened up a world of career opportunities for individuals with skills and knowledge in this field. From developers to analysts and consultants, the career prospects of blockchain technology are vast and exciting.

One of the most in-demand career options in the blockchain industry is that of a blockchain developer. Blockchain analysts are also highly sought after, as they are responsible for analysing the vast amount of data that is generated by blockchain systems. For those with a business background, becoming a blockchain consultant can be an exciting and lucrative career option.

With its potential to revolutionise industries and transform the way we do business, the demand for skilled blockchain professionals is only set to increase.

Here's a list of various career paths within Blockchain Technology:
Blockchain developer

Blockchain engineer

Blockchain architect

Blockchain researcher 

Blockchain financial analyst

Blockchain consultant

Cryptocurrency analyst

Blockchain security expert

Blockchain supply chain manager
Best Countries to Study Blockchain Technology
If you're looking for top-ranking universities to study a blockchain technology course abroad, look no further than these study destinations:
Blockchain technology is an in-demand field of study, and these top study destinations are known for their exceptional practical learning, academic programs, and research. Also, their teaching approaches are restructured and updated to make sure you are set for the real world. Universities in these top destinations are known for their resources and often have partnerships with leading hospitals to provide opportunities for internships, research projects, and networking to gain experience.
Best Universities to Study Blockchain Technology
There are many great universities to study blockchain technology abroad and work in this field after graduation. We have selectively chosen a few such institutions, and it is worth noting that a blockchain technology degree obtained from any of these universities is widely acknowledged on a global scale.
University of Southampton
Dublin City University
Head over to the nearest AECC office or fill out the inquiry form to obtain in-depth information about these study destinations, the best universities to attend, and how to get started on pursuing your desired degree in blockchain technology.
What skills are needed in blockchain?
Programming skills

Cryptographic concepts and algorithms

Problem-solving skills

Analytical skills

Knowledge of databases
Which area of maths is required for blockchain?
What are the requirements to study blockchain?
Is blockchain a high paying job?
We See Your Potential and Help You to Study Blockchain Technology Abroad That Adds Significant Value to Your Future.
Our international education counsellors proactively guide and support the international students in choosing the top-ranking universities and the best courses to achieve their career goal. We make sure our students are provided with personalised support when applying to study blockchain technology abroad.
To get in touch with our expert team, simply leave your details below and we'll call you for a FREE consultation.

LAM'AAN LATHEEF , MALDIVES,
THIRU JASMI, KLANG VALLEY,
PEE HUI HAN, KLANG VALLEY,
YEE HAOW KHOO, KLANG VALLEY,