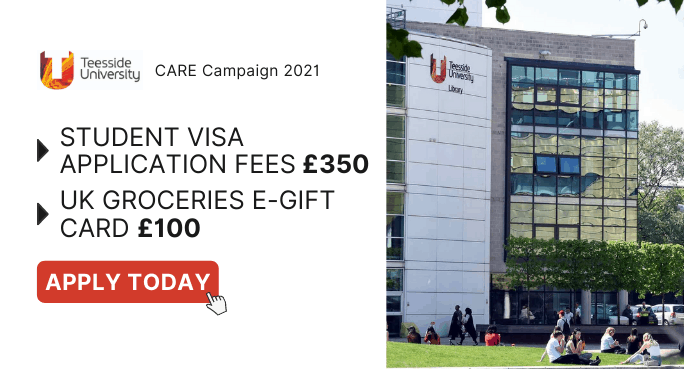 Teesside University's SEA Regional Office has initiated the CARE Campaign to encourage the students to confirm their acceptance by 30th June 2021. 

THESE ARE FOR YOU!



Student Route visa application fees worth up to

£350.00 



Grocery shopping voucher worth

£100.00
Terms and Conditions:
Applicable only for Southeast Asian Nationalities.

Must accept the university offer and make the payment by 30th June 2021. 

The E-Gift Card will be provided upon arriving at the campus.
When and how can the student avail the offer?
Once a copy of the visa application and the payment is submitted to the Regional office, the visa application fee for one will be reimbursed. After the student arrives at the campus and enrols successfully, the grocery shopping will be emailed to the student.
Checkout some of the Teesside University's popular courses:
Chemical Engineering

Fashion & Textiles

Design & Craft

Health Professions

Biosciences

Journalism,

Publishing & Public Relations
Note: The university application deadline is 25th June 2021.