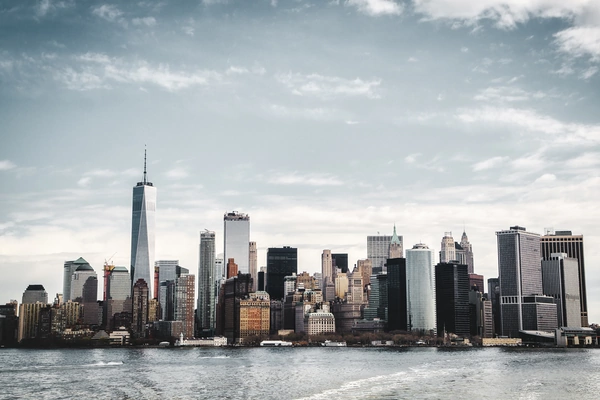 USA Student Visa
Let us guide you through your USA student visa online application process
Let us guide you through your USA student visa online application process
Why Choose The United States?
The USA is a front runner in numerous fields, a global trendsetter and land of umpteen opportunities. To begin your study abroad journey, here are the important things you should know about the requirements for getting your student visa for USA.
USA Student Visa Requirements:
Apply to a Student and Exchange Visitor Program (SEVP) approved school.
Pay the SEVIS I-901 fee, after which you will be issued a Form I-20 from the SEVP approved school.

Types of USA Student Visas
F-1 Student Visa for USA - F1 is the most common type of student visa for the USA. If you wish to engage in academic studies in the United States at an accredited college or University, you need F-1 permission. You will need an F-1 visa if your course lasts 18 hours or more for a week.
J1 Exchange Visitor Visa for USA - The J1 visa is required for working professionals who wish to travel to the US on an exchange program. So the visa is named as an "Exchange Visitor Visa". Through this visa, working professionals can apply for a ten-month vocational training course or fellowship. The educational institutions will notify the student to apply for their visas under the J1 category. Children or Spouses travelling along with J-1 Visa recipients will have to apply for a J-2 Visa.
M-1 Vocational or Non-Academic Student Visa for USA - The M1 student visa is reserved for vocational and technical educational institutions. Though the process for applying to the M-1 and F1 visa is similar, the difference is that the M1 visas have stringent timing rules as students cannot overstay their visit.
Documents required for USA Student Visa
Must have Documents for the Student Visa in USA:
Letter of admission from the institute.

Financial supporting documents like loan approval document, if any.

Academic certificates and test scores of TOEFL, SAT, GRE, GMAT, or LSAT.

Valid passport with up to 6 months validity. 

Confirmation page of form DS-160 application with barcode and ID number. 

SEVIS I-20 Form

Two passport-sized photographs.

Machine Readable Visa Fee which is currently at $160.

Receipt of SEVIS fee payment, which is $200.

A printed copy of the visa interview appointment letter

USA Student Visa Online Application Process & Cost
It is mandatory that you schedule an appointment for a USA student visa interview, in the country where you live, at the U.S Embassy or Consulate. Applying as soon as possible will be beneficial, as the waiting time may vary depending on the country, visa category and season.
F and M Student Visas can be issued 120 days prior to the start date for a course of study. However, you will be able to enter the country only 30 days before the start date.
F and M Student Visas may be issued anytime as long as you are currently pursuing a course of study in a SEVP approved institution and registered in the SEVIS. You can also enter the country at any time. The overall cost to apply and receive the USA Student Visa will range between 500 and 600$.
We're here to support your USA student visa application process
At AECC Global, we've placed thousands of students over a vast range of universities around the world and we've got years of experience in handling student visa applications. Requirements vary by each country and change often. We always stay updated with the changes and are equipped to support you. While our counsellors can guide you on general visa documents, if you are managing your own application, you have the support of our in-house migration agents. If you need help with a more complex question, Fill in the enquiry form below! Our expert counsellors will get in touch with you and help you fulfill your study abroad dreams.
To get in touch with our expert team, simply leave your details below and we'll call you for a FREE consultation.

To get in touch with our expert team, simply leave your details below and we'll call you for a FREE consultation.
"Very reliable and efficient. Ms Tan Mei Pei helped me throughout the process and ensured that I had all the documents. Helped me prepare everything and submit my visa in a short amount of time. Would not have been able to do it all by myself in such a timeframe. Highly recommended"
"Miss Tan Mei Pei was a tremendous help in my application to the university as well as for an australian visa. She was very patient and provided detailed guidance which made the process very smooth. Very grateful for everything & would recommend her services to anyone looking to study in Australia"
"The staff (Ms Tan) of AECC Global who guided me is very helpful and efficient. There is no delay in anything or any inconvenience. Her work was all up to date. AECC Global is a very good choice if you are considering studies abroad."
"It was great working with the education counsellor from AECC. They are very efficient and helpful for any requested information. Their service makes the process much easier and less stressful. AECC is highly recommended! Thank you for the support and guidance."
"Great and efficient service by AECC and special shout out to Mun Yue whom have helped me from Day 1 till the day I got my visa. Answering all my questions even after working hours and helping me with the applications to different unis and solving my accommodation problems. Highly recommended!"
"I applied for multiple universities alone, and only required the help of AECC when applying to Deakin University. Honestly I wish I'd have found them earlier and got their assistance for my other applications. My representative - Mun Yeu, was super helpful and quick to respond. 12/10 would recommend anyone."