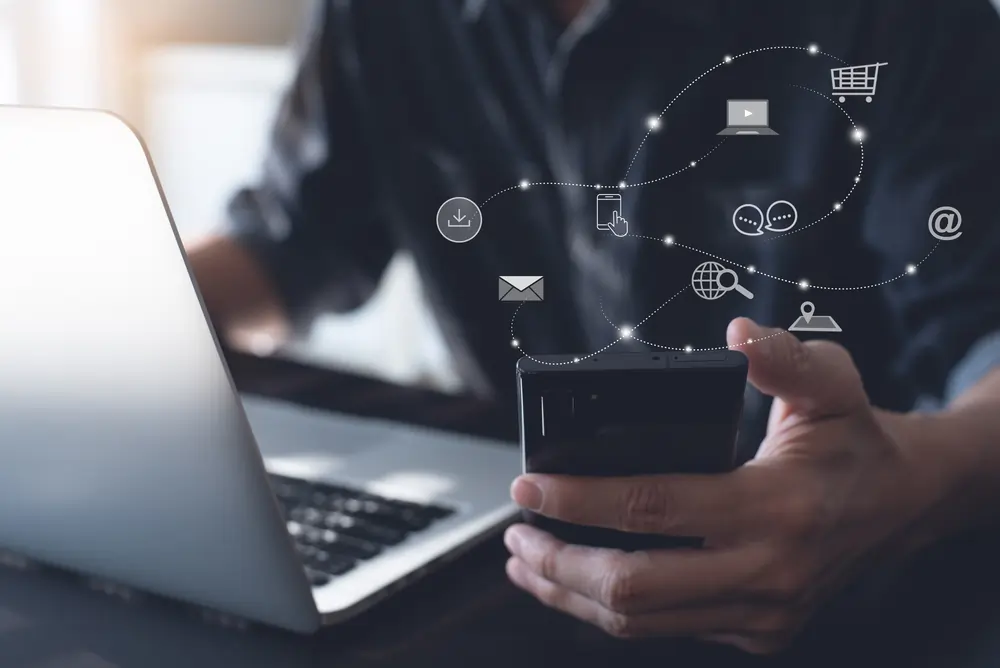 Digital Marketing Course Overview
With the rise of online platforms, the way people shop and interact with businesses has shifted dramatically. Nowadays, people spend more time online than ever before, which means that marketing strategies need to adapt in order to stay relevant and competitive.

By harnessing the power of digital channels like social media, email, and search engines, businesses can connect with their target audience in ways that were previously impossible. From building brand awareness to driving sales, digital marketing plays a crucial role in the success of any modern company.

If you're considering pursuing digital marketing abroad, you're in for an exciting adventure! Not only will you gain a deep understanding of the digital landscape in your host country, you'll also have the opportunity to learn from a wide range of industries and businesses, each with its own unique approach to digital marketing and valuable insights into global marketing.
Why Study Digital Marketing Course Abroad?
Digital marketing is a constantly evolving field that requires professionals to stay up-to-date with the latest tools, strategies, and technologies. With the globalisation of the marketplace, studying digital marketing abroad can provide a unique and enriching experience that can help you gain a competitive edge in the job market.

Digital marketing is a field that requires a deep understanding of consumer behaviour and preferences. Studying abroad can help you gain insight into consumer behaviour in different regions of the world. By learning about cultural differences, social norms, and consumer behaviour, you can develop strategies that are tailored to different markets, helping them create more effective marketing campaigns.

Studying digital marketing abroad offers a chance to immerse oneself in a new culture and gain a fresh perspective on marketing strategies. By studying abroad, you can learn how to apply digital marketing techniques to different cultures, languages, and markets. You can also network with professionals from different countries and industries, expanding your professional network and creating opportunities for future collaborations.

Subjects that will be covered under a digital marketing course abroad:
Essentials of Marketing

Audience and Brand Development

Digital Marketing and Strategy

Social Media Marketing

Content Marketing

Advertising Principles

Consumer Insights
Requirements to Study Digital Marketing Courses Abroad
There are a few prerequisites that you need to meet to apply for a digital marketing course abroad – check out the table below:
S.no
Courses
Duration
Requirement
1.
Bachelor's
3 years

Successful completion of the pre-university course with good scores.

Required minimum score in English test.

2.
Master's 
1 to 2 years

Successful completion of a bachelor's degree in a relevant field.

Required minimum score in English test.
In terms of English proficiency, you must have taken either the IELTS, TOEFL, or PTE exams, depending on your university's requirements.
Career Prospects and Scope of Digital Marketing Abroad
Digital marketing has become a vital aspect of businesses around the world, with companies relying on its power to reach out to potential customers and expand their reach globally. As technology continues to evolve, the career prospects and scope of digital marketing abroad are ever-growing, offering vast opportunities for those with the necessary skills and knowledge.

One of the main advantages of digital marketing is the ability to reach a vast audience at a fraction of the cost of traditional advertising methods. This has made it a crucial component of modern-day marketing strategies, with companies investing heavily in digital marketing campaigns to promote their products and services.

The scope of digital marketing abroad is vast, with many countries experiencing exponential growth in their digital marketing industry. The United States, the United Kingdom, Australia, and Canada are among the top countries with a thriving digital marketing industry, offering numerous job opportunities for individuals looking to explore new horizons.

Here's a list of various career paths within Digital Marketing:
Account manager

Social media manager

Content marketer

Brand manager

Project manager

Video production specialist

Web designer

Search engine optimization specialist

Email marketer

Senior copywriter

Web developer

E-commerce manager
Best Countries to Study Digital Marketing
If you're looking for top-ranking universities to study digital marketing abroad, look no further than these study destinations:
Digital marketing is an exciting and rapidly growing industry with a high demand for skilled professionals. Top study destinations and their universities offer exceptional digital marketing programs that provide students with a comprehensive understanding of different aspects of digital marketing. Studying digital marketing at a university in a top destination provides students with the opportunity to work with diverse clients, brands, and industries. They will gain exposure to different methods and techniques used in the industry and learn how to develop effective digital marketing strategies. 

Head over to the nearest AECC office to get an in-depth understanding of when, where, and how to get started on your dream degree in digital marketing.
Best Universities to Study Digital Marketing
There are many great universities to study Digital Marketing abroad and work in this field after graduation. We have selectively chosen a few such institutions, and it is worth noting that a Digital Marketing degree obtained from any of these universities is widely acknowledged on a global scale.
University of Strathclyde
University of Exeter
Head over to the nearest AECC office or fill out the inquiry form to obtain in-depth information about these study destinations, the best universities to attend, and how to get started on pursuing your desired degree in digital marketing.
Frequently Asked Questions
Is digital marketing the highest-paying job?
The pay for digital marketing jobs varies depending on a variety of factors, including experience, location, and industry. Additionally, salaries for digital marketing professionals can also be impacted by the size of the company and the level of competition in the industry.
Is digital marketing a good career?
Which course is best for digital marketing?
What subjects do you need to study digital marketing?
We See Your Potential and Help You to Study Digital Marketing Abroad That Adds Significant Value to Your Future.
Our international education counsellors proactively guide and support the international students in choosing the top-ranking universities and the best courses to achieve their career goal. We make sure our students are provided with personalised support when applying to study Digital Marketing abroad.
To get in touch with our expert team, simply leave your details below and we'll call you for a FREE consultation.

LAM'AAN LATHEEF , MALDIVES,
THIRU JASMI, KLANG VALLEY,
PEE HUI HAN, KLANG VALLEY,
YEE HAOW KHOO, KLANG VALLEY,